¡@
Historic WWII Military Vehicle story by Victor Ma T-L 28/12/2007
¡@
1937 German Kfz 2 Einheits-Pkw 20B 1/2 ton small 4x4x4 Funkkrafwagen prototype

Model: TypB20/325/R180/R200/G5/R200 Typ40 Einh. Pkw Kfz.2 4wds made by Hanomag/BMW/Stoewer/*Mercedes between 1936-40. (1940-43 Stoewer simplifitied version AW 2 R200 Typ 40 Special got front wheel steering only) R180W,R200, Hanomag 20B, BMW325, Mercedes G5 total 8400 been made. R200 Typ 40 total around 4700 been made.( only 2 wheel steering. )

Body Style: Open body with 4 door, 3 door, 3, 4seat.There were some models which differed on the rear door and rear body and locations of the spare tire mount. The we here was a 3 door radio model.

Construction: Steel open body,3 door or 4 door, with ladder type steel chassis.

Engine: Water cooled 4 cylinder, OHV dry sump motor a)1757cc 42hp,b)1991cc 50hp,c)1997cc 50hp,d) 6 cylinder 1957cc 50hp,e) Mercedes G5 got a 2006cc side valve 4 cylinder engine 45hp. ( all early BMW, Hanomag and Stoewer got R180 1757cc engine )

Transmission: 5 speed ZF full time 4 wd Gearbox with 3 self locking differentials at each Axle and gear box.

Suspension: 4 wheel independent suspension, twin coil spring and cam type hydraulic damper each wheel part time 4 wheel steering.( 1936 - early 1940 model.) *Mercedes G5 got single coil spring at each wheel. (1937-1941) ( 4 wheel steering for off road use only, under 20km/h )

Brake System: 4 wheel Drum brake cable control mechanic type ( R200 Special Typ 40 2 wheel steering 1940-44 model got hydraulic brake system.)

Max speed: 80 Km/h,4 wheel steering for off road use only. ( all early BMW, Hanomag got Stoewer R180 engine with 1757cc got 75km/h on the road but I believe all Kfz Pkw model speed over 90km/h. )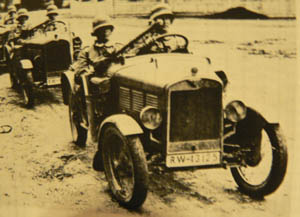 History: The German successes at the beginning of WWII, was largely due to their tactic of " Blitzkrieg " and demonstrated not only the effectiveness of the mechanization, but also the importance of deploying innovative modern military transport vehicles. After WWI the first light car use by the Reichswehf was the Dixi 3/15 ps., which was the British Austin Seven. Produced under license by Dixi, of Eisenach. In 1929 Dixi was absorbed by BMW and the car was continued under the BMW name until 1931. In the early 30s, army transport decided that the car with a 1.5L engine will be the light car, (Pkw) The wehrmacht specified large numbers of personnel carriers, constructed on light medium and heavy motor car chassis. Most were available with a civilian rear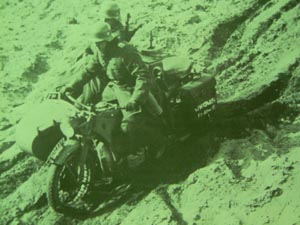 wheel drive only and the performance was not great. Then in 1935 Stoewer, a very early German auto maker, building cars since 1899, (This Co Total production was about 40000 vehicle from 1899-1945,about 190 Vehicle are know to exist today.) designed a prototype 4x4x4. This "super modern" cross country vehicle had a high performance and possessed an incredible off road chassis, way ahead of its time, resembling modern specifications not found on vehicles until today.This Deutsche Personenkraftwagen (Einheits-Personenkraftwagen Der Leichte Einheits-Pkw). In 1936 Stoewer manufactured the R180 special, but the company was not big enough for the mass production required and BMW ( a motor cycle and light car maker ) plus Hanomag ( a locomotive and heavy tractor, semi track maker ) joined in production of the same car between 1937-1940. This is similar to the how Willys MB and Ford GPW were manufacturing the jeep at same time in the early 40's. This was also one of the most interesting and mordern vehicles before World War II and use at WWII.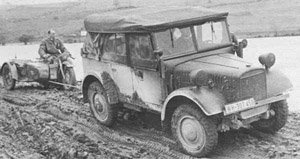 The Germany Army knew how an advanced heavy duty multi-purpose off road truck would be instrumental in providing an advantage in the coming battles and another example of their innovation was the BMW R 75 motorcycles, some with side car KS 750, with a 3x2 shaft-drive powering the side car wheel also. They produced many 4 wheeled to 6 wheeled off road trucks, from 1/4 ton to 6.5 tons and Semitracks from 11/2 ton Kettenkraftrad HK 101 to 18 ton-capacity Sd.Kfz.9

As the Nazi war machine continued a military build up, many good designs were funded and many innovative prototypes were developed. If they proved themselves under testing they would go into full production with a big car maker. In the end of 1936, Honamog, BMW and Stoewer got the order to build an incredible advanced high performance 1/2 ton off road small 4x4 vehicle. With a H type steel chassis, front 1.8-2.0L OHV dry sump engine, 5 speed ZF gear box, full time 4 wheel drive system, self locking middle differential at gear box, independent coils all around front and rear suspension, both front and rear axle with self locking Differentials, 4 wheel steering,( rear wheel steering for under 20km/h use or for off road only). A rear steering gearshaft between front two seat control the rear steering box On and Off. A steel open body, with a 3 door or 4 door design. The three manufacturers used the same parts to assemble these vehicles. All early model got a Stoewer R180 OHV motor.

They appeared in every theatre of the war in North Africa, some went to the Eastern front and even at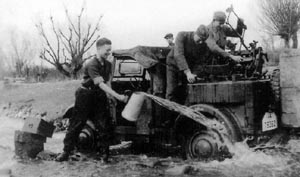 Russian They were widely used without any modifications, thus demonstrating the great adaptability and versatility of this vehicle.

In the same time, Mercedes-PKW also built a similar type G5 (W152) with a side valve 45hp 2.0L 4 cylinder engine. ( It looks same as the Mercedes 170 engine but a little more powerful ). Chassis and suspension, gearbox all close to the specs of the Stoewer le.gl.E.Pkw Kfz 2, but single coil at each wheel.

The Mercedes-Benz G5 is very interesting, as a military vehicle the Pkw Kubelwagen was mainly used by Germany's allies during WWII, Rumania, Hungary etc, the few that remained in Germany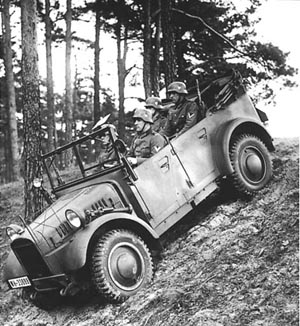 were usually privately bought and used by the German Fire Service or German Alpine Red Cross. As the G5 was not an official German military vehicle, but a private design by Mercedes, it was therefore sold to Germany's allies as there was a very limited choice of customers for privately designed German off road vehicles during war time. 378 have been made.

This vehicle is very similar to the Stoewer R180/R200,Hanomag B20,BMW type 325.It was not a copy. This was the German army had ordered all car manufacturers in 1933 to design a "Einheits-Pkw mit Allradantrieb" , a Uniform cross country Passenger Car with all time 4WD system. All manufacturers had to follow identical blueprints and technical layout.

At end of 2007 one G5 complete car needing a full restoration and rebuild. The complete rust car Asked over half million Euro.

Meanwhile the USA army does not have any small all wheel drive vehicles until 1940, instead Bantam, Willys and Ford use a 4wd truck design to build a small GP. It uses 4 wheel leaf spring, 2 live axles, an H type ladder chassis, a 2L side valve engine and a 3 speed gear box with part time 4x4 system. We know this as the first US jeep. Willys and Ford build over 600,000 2.2L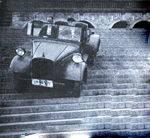 MB/GPW between 1942-45. Also some Dodge mid size 4x4 made between 1940-45 WC6/WC7/T202-VC1/T211-WC15 and WC56/WC57 base from a 1/2 ton and 3/4 ton Dodge 4x4 truck, front and rear with live axle, 4 wheel leaf spring .
Today every people believe Jeep = small sturdy multi-purpose motor vehicle with four-wheel drive, can go any where. Than Jeep must be the Germany 1936 made Kfz R180, B20,BMW type 325 not US 1940 made Willys MA, Bantam MKII,1941 Bantam BRC or Ford GP. At 1941 Ford use a GP chassis to build a all time 4WDS jeep, Willys also build another 4WDS at 1945, But both unsuccessful, because all time 4WS system made the driving more difficult, when speed over 25KM/H, the car can not under control at road speed.

The British army does not even have a small 4x4 during WWII, Instead they use a lot of 30s civilian 8-12hp front engine rear wheel drive light van chassis manufactured for military use by Morris 10 hp series M, Austin 10 hp series G/YG, Standard 12 hp series UV,10 hp series BC, Hillman 10 hpMKI, Vauxhall 14 hp series JI, Wolseley 18/85 hp series III, Humber Pullman ,Snipe, Ford WOA2A, Commer Beetle, Guy and Bedford. They all use a 4x2 light truck as the base of this army vehicle. Some just lift the suspension a little and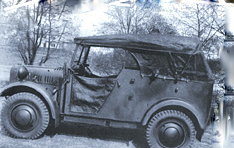 fit over size off road tires on the light van. No performance off road vehicle until 1949, when they use a Willys jeep 2.2L engine chassis to put a Rover cars small 1.6L engine and put the steering in the middle and make a 3 seat 4x4. This was a copy of MB/GP jeep but with less power and only 3 seats, incredibly this was the first Land Rover prototype.

The Soviet Union Army built the GAZ-67B between 42-53, a 4 cylinder 3.3L engine with 4 speed gear box, parts time 4wd system. 2 live axle, leaf springs, like a BM/GPW jeep. Over 600,000 have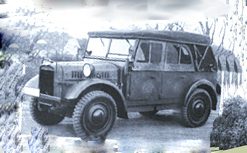 been made.

Japan at end of the 1930s produced a Kurogane model 95 small tiny ( some people say "Black Medal") 4x4 with a twin cylinder V shape 1.4L air cooled motorcycle engine, 3 speed gear box, and a unreliable 4wd system. The front IFS got flexible joint without rocker arm cover. to the front differential. A total of 4,775 been made. This car was very unreliable and under power off road vehicle at 4wd history.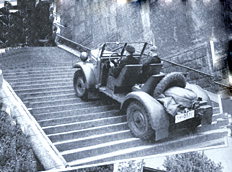 Clearly the evidence is that Germany standard military Vehicles were the best in the world at that time. Until today, over 70 years later no SUV or 4x4 had a better mechanical design than the Hanomag/BMW/Stoewer/Mercedes car. It is a super off roader and has a modern performance and reliable design. Both three manufactures built the first series unit as a command car, standard staff car, radio car, field Telephone unit, anti-aircraft car ,maintenance work shop, scout car, etc,. This is a Great off road car of the 20th Century.

Because the price to made this type small off road vehicle is too high, use too many metal and the capacity is not big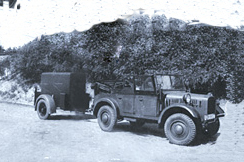 enough to carry 5-7 persons and power not enough to towing a Gun.

Maintenance and supply of spare parts were another major problem, The chassis, gear box, axle, suspension was quite complicated as they were deployed to Eastern front, North Africa and on the Russian. In 1940 the production stopped, Hanomag model less than 2000 unit and BMW made between 3225 - 3259 unit. The more simple easy maintenance, use less metal, low cost, light weight off road vehicle VW 82 KdF Kubelwagen was in full production.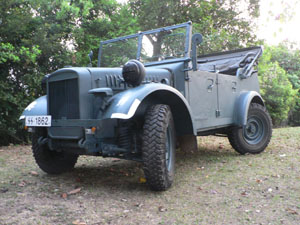 At the same time, Steyr 1500A, Horch 108, Auto Union/Horch 901Type40 also built a 1-1.5 tonnes 7seat with a powerful V8 3.5-3.8L big size multi-purpose vehicle for towing, although Stoewer was still making some Kfz (but without 4 wheel steering model R200 Special Type 40.) From 1936-1944.Around 7,500 were made by Stoewer.

As all the early 4WDS Kfz1,Kfz.2,Kfz3,Kfz4,20B and LEPkw used from beginning of the WWII in Poland, North Africa and on the Eastern front and Russian, until the end of the war. Early 4wds type of small high performance off road vehicle were mostly destroyed during the war. After the War not many have survived, most of Stoewer later R200 Type 40 2WS model were used by the fire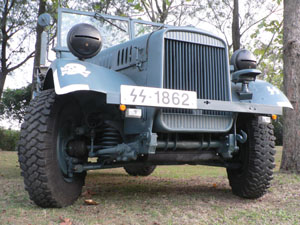 department, air port service, mountain rescue and used in Eastern Europe after the War.
Following World War two it is not clear why the USA manufacturers did not copy this vehicle, maybe it was too advance and too high tech. to understand. If they had copied this vehicle the off road vehicle and motor car design and history would have changed, because this super SUV was developed before WWII and not replicated in an SUV until 2000. After the war the MB/GPW jeep was copied extensively, but it is essentially a truck chassis, not at all sophisticated and with severe constraints on its handling ability, the main concerns were ease of manufacturing and durability, not handling, nor comfort.
Many people don't understand this vehicle well and say it is too complicated technology, over-sensitive handling etc. Wheras I have owned all the best 4x4 since I was 14 years old when I got my first Suzuki jeep to drive off road. Today I own MB/GPW, VW82,82e, 166,Dodge, all models of Land Rovers, Inc a JRA build Australia Military 6x6 Defender Nissan Patrol, all models of Land Cruiser, Haflinger 700 AP, ATV, Buggy, Unimogs, G series, CJ Jeep,VW Touareg 5.0V10 twin turboTDI, Lamborghini LM002 V12, AMG Hummer H1 etc. I enjoy conducting long time tests on the car and also dismantle the vehicle, separating the chassis, engine, axle, gear box, suspension to reassemble in my work shop at Shatin, Hong Kong. I also have organized several round the world events and participated in the support teams for the Paris/Dakar Rally these past 10 years. I know what constitutes is a good cross-country vehicle, and a good off roader also needs to be vehicle on the road. When I got this vehicle, I conducted long term test in all conditions, I discovered this is the best 4x4 that I have ever driven. Very good off road performance and also very good on road performance, only under power for todays highways. But if you go back to conditions of 1936, it is more than enough.

Today not many early R180.20B, BMW type 325 and Mercedes G5 4wds models have survived, they are real rarity, but you still can find a few in the world, A little No. of Stoewer later model R200 Typ 40 in Museums and others on historic vintage military vehicle collectors hand in Europe. The one we have acquired is from France. This SS Division Radio car was captured by Americans in Normandy at 1944. At early 60s this car been rebuild at France, 70s this car put at Museum at France.At end of 90s was shipped to New York and now in Hong Kong at our 4WD Co. We believe this is only one in Asia (very rare), it is very complete no rust and in reliable running condition, with 3 door model Kfz.2 very early model and it is use for Radio/ field Telephone or a field maintenance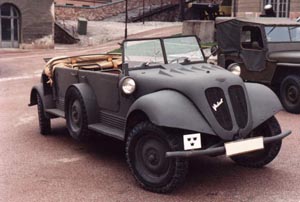 vehicle at WWII use by the German Waffen-SS Totenkopf at Eastern front. We believe some OE original condition parts still at Eastern Europe and Russian. if you know some early R180,B20,BMW type 325 parts, or a complete car, please kindly e mail us at metaltankmodel@yahoo.com or put at www.tankmodel.com ,We will pay cash to buy them, any parts, like R180 engine parts, 5 speed gear box, axle, suspension, differentials, can type hydraulic damper, chassis, body parts, door, light, cv joint, propeller shaft, steering box, 18 inch wheel, dynamo, lights, cable brake parts or a rust body, etc. We also need war time picture and manual, magazine, history, every thing about this early type Der leichte Einheits-Pkw B20/R180,325/G5,R200 Typ 40.Shipping is not a problem, we will pay the fright.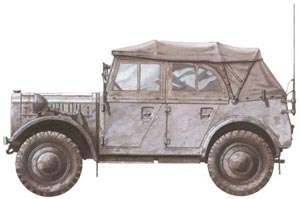 If you got one such as Stoewer R180,Hanomag B20,BMW type 325 or even a Stoewer R200,Mercedes 170VL,Mercedes G4,G5,Horch 901,Auto Union/Horch 108,Steyr 1500,KdF 60,82e,87,82,166, Trippel, Tempo, etc, please e mail us. We will have some nice new metal parts for your collection, such as alloy made fuel tank, War time head light cover, new radiator etc. We can hand made some metal parts to help your car running. we also hand made expensive1:8 scale ,1:6 scale WWII Panzer, Radio Control metal tank model in HK. most parts made by CNC. Here are our tank model website www.tankmodel.com
¡@