The Verio Big Tank model Co start producing WWII Military large scale heavy duty hand made radio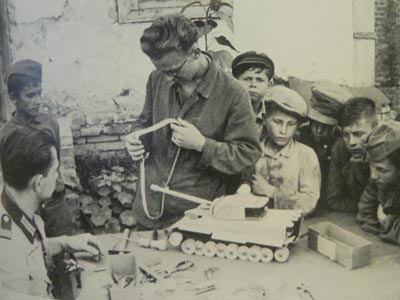 control metal panzer tank models for collectors and some one want some very good quality metal radio control model. Because we believe the Tank is a metal Armour track heavy cross country machine and the heavy duty metal construction make the tank model heavy enough in a replica of the scaled weight to the original, not only does this make it strong and durable but also enable the suspension to work very well and the track will make impressions in soft terrain just like the real panzer tank. The FRP and plastic tank model or a rough metal made tank model kit can not compare. This is why we use expensive 7075 alloy, cooper, metal to build this type of scale model. We have 1: 6 scale and 1: 8 scale.. All Panzer Tanks are CNC hand made most are limited edition, They are 95%-99% made using heavy duty metal and you also can order electrically air cooled engines, heavy duty metal gear boxes, working suspension, adjustable gun, working metal turret and alloy tracks, the 1:8 scale Sherman E 8 packing wooden box size measures about 42cm x 86cm x 47cm . or a 1:8 Tiger I wooden box size at 100cm x 60c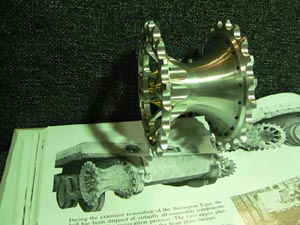 m x 53 cm. The 40-50KG it is small enough to store and transport easily in a car or you can buy metal parts from us to build the metal tank yourself. We can build the tanks preassembled the model ready to run, you just need put a 6-8ch R/C, speed control ,battery and paint the model. Our tank craftsman painstakingly reproduce authentic details, down to the smallest parts. Our kits come with many small accessories including spare tracks, same as you see at our sample. This is the best hand made R/C military model available but without the high price tag.

Now we also have a 1:6 scale metal tank model without gear box and R/C for some people like a metal tank model use for display with the Dragon Figures, one day they can buy the blue gear box with heavy duty Elec cycle 24V powerful motor, speed control from us to make it run at once. Every part is available incase you happened to break any of the heavy duty parts. We also have some heavy duty optional parts for all 1:6 model for some one want every day use and cross the rough country or towing a 3 tones car. At end of last year (2008), we developed a optional metal gun barrel recoil system etc.. A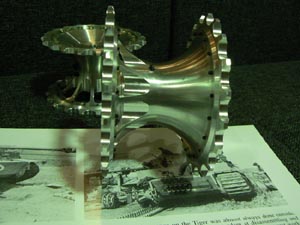 completely hand painted and hand assembled (Factory Finished)1:8 metal tank like Sherman M4A3E8 ,a Tiger I, or a Panther including a 5ch PCM Futaba radio, 3x powerful motor, 2x metal low ratios scale speed gear box, 1x 12ah 12V battery, 1x 1700 6V battery, 1x 1200 7.2V battery, 2x speed control. (1:6 model got 2 powerful Elec bicycle 24V motor and a heavy duty gear box. speed controls).. you can buy a complete 1:8 scale tank without gear box and paint at USD3200 only, or just a ready to run 1:8 scale tank without R/C, speed control, paint and Battery, it cost at USD4200 only ,or a complete Ready go 1:8 scale Tiger I ,panther, sherman E8 with 5 ch Futaba R/C cost USD4995 only. These tanks are adjusted, painted (Please e mail use the colour you want. ) and tested at the factory. So when you get your Verio 1:8 tank, it's ready to run!
Since each 1:8 tank is painstakingly built to our high standards by hand, our craftsman need approximately 60-90 working days ( 1:6 take 90-120 day) to assembly.
Why choose a Verio metal tank model, because our tanks can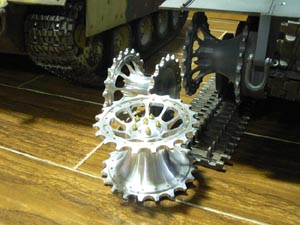 not be compared with other fibreglass body or metal tank Assembly kit R/C tanks. These kits offered by other companies come in a kit form, not built out of the metal and most bodies are made from glassfibre or a metal parts kit, You will need to invest a lot of time and money to built these other kits. These other kits also require you to have a lot of model and R/C building experience. Most of the other kits offered by some other shop require you to prepare and paint the fibreglass or alloy metal body , just like a big scale plastic toy or a cheap metal tank kit got a lot of fitting problems, that you many can not build by yourselves. If you are truly looking for a high quality, long life, authentic working heavy duty metal tank, or a scale Tiger I, Kingtiger, Panther, Sherman, Tank chassis/frame, metal tank body, metal tank Track/caterpillar, track carrier with rollers, track sprocket wheel, rear axle, Gear box, suspension or other body accessories etc your search is over!
Our Engineers and Tanks Craftsman are Milititary and Historic vehicle collectors, R/C model designers in Hong Kong. We know our customers demand the best and that's what you can expect from our Tank models. T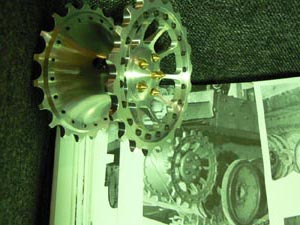 hey can be driven on the roughest terrain outdoors, like sand, mud, snow and rocks. Our Tanks are toughest tested on our factory testing grounds to perform in all types of terrain. Our Tanks also look great on display! We offer the 1:8 Sherman M4A3E8, Panther Jag panther, Panther G ,Tiger I, Since 2006 we have build a small number total 18 unit of the 1:8 Storm Tiger, and now we got 1:6 metal Tiger I Pz.Kpfw.VI,Sd.Kfz,181,and Tiger II Pz.Kpfw.VI Sd.Kfz.182,Tiger Ausf.B( King Tiger ) and Panther Ausf.G. This may be the first hand made ready to go straight from the wooden box metal made 1:6 scale R/C model in the world. The 1:6 Tiger I wooden box size at 123cm x 77 cm x 68 cm 133kg. The 1:6 m.zgkw Sdkfz 8 and 12 ton semi track.1:6 4x4 222 and 1:6 Hunting Tiger, 1:6 T34,1:6 Sherman early version,1:6 Jagd Panther,1:6 VW 82 kubelwagen and a 1:6 PzKpfw Panzers early Version ( a low price start kit ) and a 1:8 world s first metal R/C King Tiger. We have built the prototype and it being pass the test at last year alr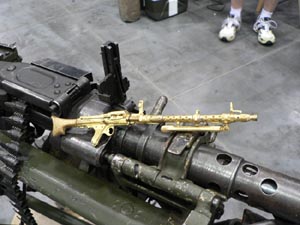 eady.
At end of last year (2008) we build the 1:8 scale metal king tiger panzer, This year we will built 10 unit of 1:6 HuntingTiger,10 unit of The German Panzer Destroyer (JagdPanther).
At the end of this year, We will build 4 of the most early Tiger Tank Initial Production model Pz.Kpfw.VI Ausf.E Sd..Kfz.181 at 1:6 scale, which service at s.Pz.Abt.502 at 1942.No.100,No200,No 111 and No 112.those 4 limited edition model come with a all new heavy duty gear box,Recoil system,suspension stop, a nice metal houseshoe and a Chassis No. 2010 we will have Tiger I later model track for both 1:6 scale and 1:8 scale.The prototype is ready for test at end of Aug.
Our Tanks are fully detailed, hand built and Factory assembled. These expensive models are not toys, but scale replicas of authentic historic military vehicles like the real thing! These tanks are engineered to last for 10, 20, even 30 years or more. These Tanks are not FRP (fibreglass) kits! They can come assembled, all hand made metal parts, and tested at factory by our Tank craftsman in HK before we ship you the tank. This is make sure that our product no need remachine the parts. Because most of the metal tank in the market is just a rough display model kit, it is not easy to build them, unless you have a lot of time and you know how to remachine the parts. We also give you all samll accessories than you need for your tank, such as Engine starter crank handle, Shovel, Track tension adjusting wrench,2 heavy duty long towing r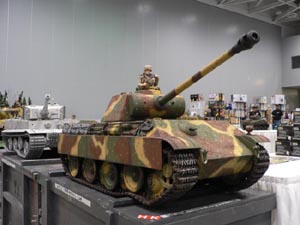 ope and one long rope cable. front machine gun mantlet, Basch war time head light , working Turret with working hinged hatch, small hatches, Periscope, Rear Hatch, point-defen weapon, working Gun mantlet, hook, twin Exhaust system, shield added, Jack Twin Towing clevis, Track tension adjusting port covers, wooden box, shackles, rear fender mud flaps and cutter, fire extinguisher etc. all accessories near 100% made by heavy duty and expensive light weight metal. This help you save a lot of money, you not need to pay expensive labour for the model shop to build the model kit and you no need to pay the small metal accessories as your tank chassis price. Our 1:8 sherman E8 Tank come with a hand made metal .05 MG and 1:6 Tiger I Panzer come with a hand made metal MG34. All accessories on the tank body you see at our
www.tankmodel.com
web are Included in the model that you order. Each Tank comes with over 1000 - 2500 hand made authentically detailed parts, made from the finest materials. If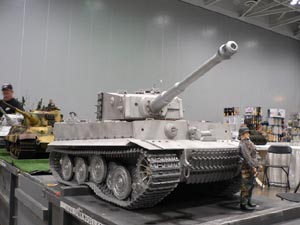 you would like us to built you a custom military WWII tank Panzer model , we are able to supply you all 1:6 and 1:8 scale Tiger I, Kingtiger, Panther, frame, body, suspension, wheel, caterpillar, axle, gear box, metal accessories, they are easy to assemble, like a 1:35 display model kit. You also can order a assembled complete metal tank model without Gear box and R/C system for display. All tank metal parts will show at Tank accessories and parts. Please come and visit us or contact us and tell us your specifications. We ship world wide Included UK. All 1:8 scale tank Panzer model we recommended by UPS and 1:6 scale by sea, or you can go to our show room. Freight charge are not included at metal tank price.
Shipping/air to USA and Europe most country one tank at US$500+ --. Insurance is not a problem, cost you less the USD90 per tank.
Verio metal Tank Panzer model provides a Free service for any one to directly buy/want, sell or trade used expensive hand made WWII Metal big scale R/C Tank model, or any 1:12,1:10,1:8,1:6,1:4 scale R/C tank
model ,4x4, 6x6, 8x8, 10x10 1:14.5,1:12, 1:10, 1:8 scale R/C heavy off road truck model, German made Hydraulic metal R/C Dozer, Loader, bucket, crane, steam model & some rare 1:1 real WWII small classic rare Germany Army Vehicle like VW82, VW82e,VW166,VW87,Horch Kfz 15,Auto union 108, Stoewer Kfz R180/R200 Type 40,BMW325 Pkw, Hanomag B20,Mercedes-Benz 170VK,G4,G5,Trippel SG6/41and small NSU Track motorcycle Kettenkraftrad Sd.Jfz.2, BMW R75 3x2 motorcycle,Zundapp SZ7 Goliath etc. Related parts or complete model/vehicle with other enthusiasts on the internet for some collector they want some rare also very good hand build, expensive and hard to find big boys collection. Place your personal advertisement here and promote your deal to thousands of collectors in the world. No Armour, Artillery, gun or any weapons,1:200,1:144,1:87.1:76,1:35, 1:48, 1:32 plastic model, is allowed to put at this web.